Living green walls or vertical gardens, sometimes just called "living walls," have been a growing trend in commercial real estate for some time. Now, as people seek healthier indoor spaces, with an emphasis on indoor air quality and air purification, we are seeing living walls in even more commercial properties.
Companies ranging from Google to Etsy have embraced biophilic design, or the addition of natural outdoor elements to an indoor environment, in many of their offices.
In New York City, Apple's Fifth Avenue flagship store includes not just indoor trees, but two living walls on either side of the building. Online auction site ebay incorporated its logo into a green wall in its San Jose, California, office.
What are the positive effects of installing these eco friendly living wall features in your office building, multi-unit dwelling, retail center, or mixed-use property? From improved employee and resident well-being to enhanced productivity, not to mention sustainability, having a moss wall, vertical garden or living wall installed has many benefits.
What Is a Living Wall?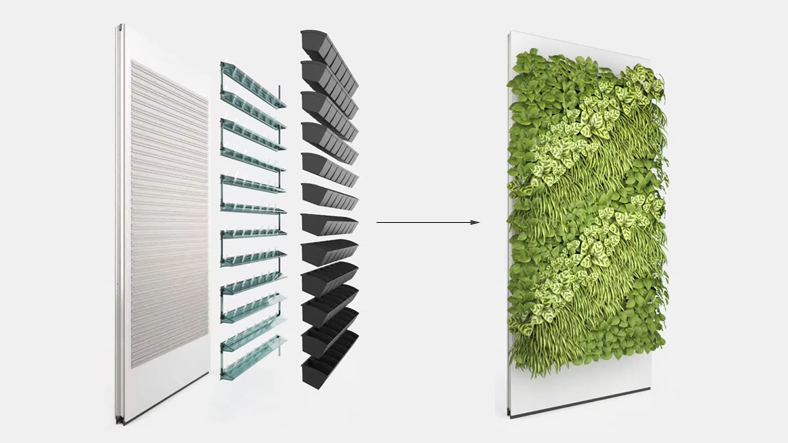 A living wall or vertical garden is an installation of living plants upon a bed of soil, fabric, or foam installed on your building's wall. Living walls can be installed indoors or outside. The plants selected for the wall can vary depending on the location.
For instance, indoor plants without extensive sunlight requirements may thrive in an office lobby. Outdoor plants chosen for a terrace may vary depending on your location's climate and access to natural sunlight.
A moss wall, on the other hand, is most commonly installed in a bathroom, where it thrives on the steamy air. Moss walls may cost roughly 20% less than a living wall and don't require as much maintenance. They also have fewer light requirements, making them a good choice as a retrofit in some indoor environments lacking natural light.
Living green walls require an irrigation and drainage system to keep the plants and foliage healthy. While a living wall installation takes some time, planning, and an upfront investment, as with any capital improvement to commercial properties, the advantages of a living wall can easily make the costs worthwhile.
Create a Sense of Positivity and Increase Workplace Wellness
Living walls have tremendous aesthetic appeal, which has contributed to their popularity. But studies show that added greenery can increase workplace productivity, add a sense of comfort to an indoor environment, and reduce overall stress levels in a room.
In urban environments, especially, where workers may not have easy access to greenery, living walls can help improve workplace morale.
A Norwegian research firm discovered that people worked more efficiently and with more focus when surrounded by greenery. Meanwhile, a Washington State University study found that a surrounding filled with plants could boost productivity by 12%, according to an article published by NAIOP, the Commercial Real Estate Development Association.
Remove Carbon Dioxide and Air Pollution for Better Indoor Air Quality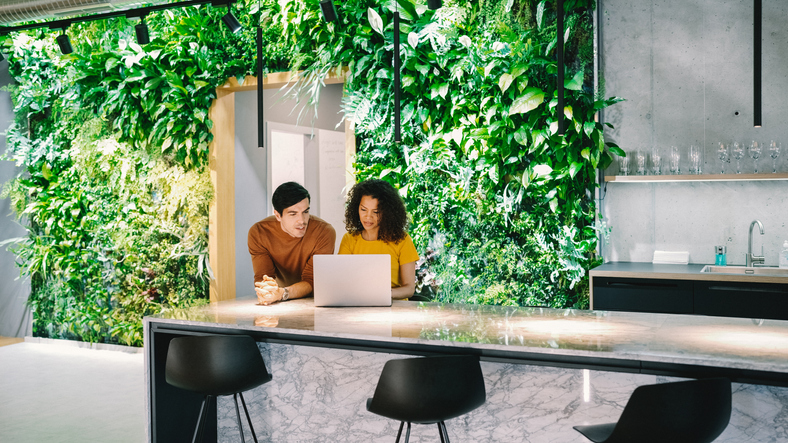 Businesses are embracing vertical gardens for so much more than the way they look or the way they make workers feel. With an increased focus on air purification and indoor air quality sparked by the pandemic, living walls can help reduce indoor air pollution for a healthier work environment.
An older NASA study discovered that plant systems can help reduce high concentrations of indoor air pollutants, including organic solvents and VOCs that may be emitted from carpeting, paint, and office furniture. Another study found that a three-square-foot segment of living wall can remove a minimum of 10 ounces of carbon dioxide in the air, or six cubic feet of CO2 over the course of a year.
Reduced CO2 in the air can improve workplace wellness and help with focus and increased energy.
Alleviate Noise Pollution in Open Office Floorplans
Ambient noise is a major distraction in today's workplaces. Indoor plants have sound dampening properties that make them the perfect, natural acoustical treatment in commercial properties ranging from open floorplan offices to spacious lobbies and even retail centers.
Living walls can also be installed in multi-dwelling units to enhance the sense of privacy between tenants. In one study, a living wall helped absorb 40% of the sound between two rooms in a building.
Reduce Cooling Costs
Just as a living wall helps increase acoustic isolation in a space, it can also act as natural insulation. In the summer, a green wall can reduce a room's temperature by as much as three to seven degrees Celsius, saving up to 20% in cooling costs. They also help reduce temperature fluctuations, which can create a more comfortable environment for workers and tenants.
Earn LEED or WELL Building Certification Points with a Living Wall
If you are committed to building a green space for your next commercial property, a living wall can help you achieve LEED or WELL Building certification. Developers can earn certification points in the categories of Energy, for the positive effect of a living wall on cooling costs, and Atmosphere, for the way the living walls reduce indoor air pollution.