Hybrid workspaces represent one of the potentially permanent byproducts of the pandemic. What is a hybrid workspace? It's an area that accommodates both remote workers and on-site employees at the same time.
While remote work was already on an upswing pre-pandemic, shifting to a hybrid model accelerated during the pandemic. Today, an estimated 74% of companies already use or plan to implement hybrid work permanently.
Real estate developers and commercial property owners are adjusting to meet the new demand. But restructuring an office building isn't the only change that makes a difference. The technology required in spaces like conference and huddle rooms plays a crucial role in a hybrid workplace.
Challenges Presented with Hybrid Work
According to a recent Gallup.com poll, the most significant challenge facing companies implementing the hybrid working model is the decreased access to work resources.
When onsite was the norm, employees could be virtually guaranteed the equipment and technology to do their jobs. But now that more people are working remotely, employers need technology solutions to level the playing field and keep team members engaged and functional in meeting spaces. Employers can overcome part of this challenge through virtual private networks (VPNs) and providing employees with portable devices that transfer seamlessly from the workplace to their home office or wherever else they might work from.
Additionally, creating conference rooms and public spaces that connect remote employees with in-house workers can help with engagement. The reality of hybrid work environments is that all stakeholders must make adjustments to make it work for onsite and remote participants. Commercial property owners can – and should – provide the right technology to entice hybrid teams to their building.
The Right Conference Room Makes Everyone Feel Like a Team
The conference room is where the magic happens in the modern office space. It is a space where people collaborate, share ideas, and set targets and strategies for company growth.
If it takes more time to set up a meeting than participate in it, it defeats the purpose of its effectiveness. The best way to avoid these experiences is to equip meeting rooms with technology that simplifies the process for everyone.
Solutions like Crestron Flex, which integrates with Zoom and Microsoft Teams, makes it easy for employees to start a meeting in seconds. Room Scheduling capabilities can increase meeting room utilization, prevent mix-ups, and even gather data on conference room use so the IT staff and supervisors can find ways to use conference rooms more efficiently. But having the right technology isn't enough. Providing the right tech support and maintenance is a key to efficient hybrid workplaces. More businesses in virtually every industry will express interest in your property if your technology solutions also provide 24/7 support.
Commercial property owners can improve lease-ups by retrofitting conference rooms for virtual, in-person and hybrid meetings with adaptable, high-quality, and modern technologies that reduce logistical challenges. It has always been the case that the right conference room technology leads to better communication and increased camaraderie. But the bar has been raised with employees working from all over the world. When a building and its technology becomes integral to a company's communications, operations, and corporate culture, property managers can be assured of long-term tenants.
Hybrid Conference Room Layouts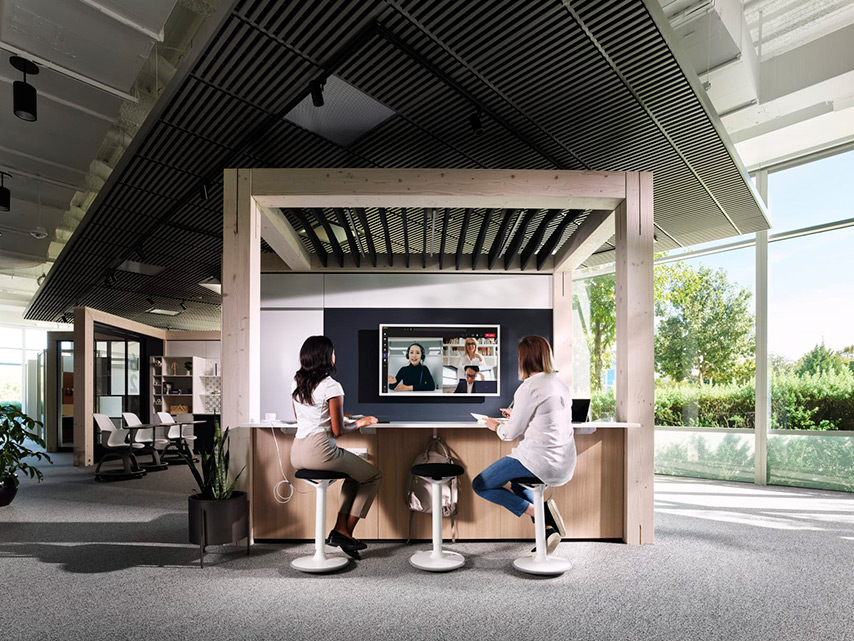 In the past when traditional office layouts ruled, collaboration between employees was more straightforward. Today, the goal is to help teams feel involved and connected, whether on the far-end or near-end of hybrid meetings. Fortunately, commercial real estate property owners have many solutions to bridge the gap between remote and in-office workers.
Advanced technologies in the areas of video, audio, lighting, videoconference, and automation systems help create more functional and sustainable office layouts.
Because the new conference room layout hosts remote and onsite workers, it must be comfortable for all to access, easy to start and manage, and support existing architectural forms. If you can't change the physical aspects of the space, retrofit technology that merges with the conference room is one solution to keep in mind.
Most importantly, these technologies must adapt to companies' ever-changing platforms to conduct business. As you think about the type of companies that will be attracted to your space and the modifications and accommodations these businesses will need in the future, the easier it will be to cost-effectively future-proof conference room layouts and technology. For example, if your conference room hardware or software only supports specific collaborative platforms, you'll have problems later when newer collaborative apps emerge. Software and hardware, alike, must be backwards compatible with existing systems and designed to accommodate changing technology.
How to Support Hybrid Work with Retrofit Technology
Commercial property owners can outfit their spaces with retrofit technology that attracts high-quality employers. Depending on your budget and space restrictions, you can equip conference and meeting rooms with tech that makes a difference and enriches the experience for all stakeholders. Below is a breakdown of some of these technologies and why they enhance your property's value.
Video Screens
Gone are the days when the video conference relied on a low-quality, static screen that took a team to set up. The video screens of today come with 360-degree cameras, built-in artificial intelligence, panoramic displays, and automatic zooming that gives employees an in-office feeling despite participating in a remote meeting.
Audio Requirements
A high-quality audio experience is necessary for the modern conference room, especially with open-office layouts. The challenge is maintaining privacy during video meetings and minimizing noise while equalizing the experience for all members. New technologies allow property owners to install audio equipment that does just that – with perks like acoustic fencing to decrease distractions for participants.
Lighting for Hybrid Meetings
Whether on the far-side or near-side of a meeting, lighting is crucial. Employers can't do much for those working from home apart from providing a ring light or suggesting workers try to find a video calling space with natural front lighting. But the conference room lighting should be even, professional and bright. Natural lighting works best for any video conference, and using daylight harvesting techniques also has substantial sustainability benefits. Sunlight remains an essential component of the modern workspace. If you can redesign the conference room to receive natural sunlight – and plenty of it – it creates a warmer, more productive atmosphere that employers appreciate.
Videoconferencing Systems
Videoconferencing systems are adjusting to the unique needs of hybrid workspaces. Today's employers require tech that offers chat, video call, file sharing, pre-recording, API integration and live streaming options. While most employers choose their own video conferencing systems, you can ensure the conference room space meets the necessary electrical and infrastructure requirements, including networking lines, and can accommodate the necessary video cameras in the right spaces.
Automation Systems Improve Sustainability
When property owners implement built-in technologies that improve efficiency and increase productivity, they also attract businesses that value sustainability. Some examples include outfitting buildings with smart systems that manage factors like HVAC and lighting. The more a property automates routine procedures, the higher the interest from businesses who want to provide a top-class experience for employees and visitors while reducing their carbon footprint.
Wrapping Up
Updating conference room technology to complement and improve workspace efficiency is the new priority for property owners to attract quality clients. By integrating modern, efficient, and smart technology in hybrid workplaces, you'll increase the value of your property for current and prospective clients.
For more information on how you can use technology to upgrade your commercial real estate property, look for the best contractors for Smart Workplace Technology on Monster Commercial.